Q. " The film I want to see",

was released today, why don't you have it?

A. Sometimes we simply cannot fit any more films in.


We only have 3 screens and there is usually between 3 and 8 new films released each week.


We keep most new films for 3 or 4 weeks. Just can't get them all.
Q. Why did you only have " The film I want to see" for a week when other films are out for 3 or 4 weeks?

A. Sometimes we have film just for a short season if there is no customers coming to see it and sometimes


we will squeeze in an asked for film if we have a small gap between blockbusters.




Q. Why can't you tell me screening times more than a week ahead?

A. We are rarely 100% sure on what we will be getting more than a week in advance.


This is due to films not doing as well as anticipated, or doing better than anticipated.


Sometimes we can't get confirmation of a film booking until the Monday and the film starts on that Thursday.


If you are having a party or fundraiser, we can generally work out a time for you.
Q.
What does No Free List or No Free Tickets mean?

A.

This means you cannot use complimentary passes to that film.
Q. Do you have assigned Seating?
A.
Yes, we do in our newly refurbished Cinemas 1 and 2.
Cinema 3 hasn't had its new seats yet, so you can still choose your own seat when you enter cinema 3.
Q. Can I use a Village or Hoyts pass at your cinema ?



A.

No.

We are an independent cinema and not affiliated with these cinemas.




Q. I want to buy a ticket as a gift, can I do that?

A.
Yes, we have gift
cards available. You can load any amount up to $200. Physical cards are available at the counter. Online cards are available via our website
www.salecinema.com.au


A. Yes we do. Cry baby sessions are held on Wednesdays around lunch time. Please check our ad in Gippsland Times for details (not during school holidays)

Q. What is a Cry Baby Session?
A. Parents and carers of infants can bring their baby to these sessions without having to worry about leaving if their baby gets noisy

Q. Do you have baby facilities?
A. We have a change table in the ladies room, and a microwave to heat bottles (just ask staff)

Q. I can't get there on a Wednesday, Can I only bring a baby to these sessions?
A Babies are welcome to any session, but these allow for more noise than a regular session.

Q. Can I buy my tickets online?
A Yes. www.salecinema.com.au

Q. I cannot print my online ticket what do i do?
A. you can either write down the BOOKING NO# or Present the same credit card used to buy the ticket and we can redeem it that way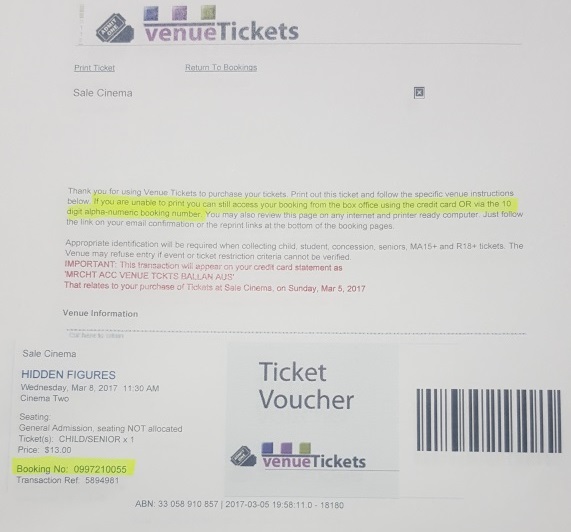 Q. What is the difference between a Carer Card and a Companion Card?
A Carer Card is issued to a carer playing a critical role supporting others in the community, including people with a disability or mental illness, children in foster care, and frail aged, to recognise and reward the selfless hard work that they perform to improve the lives of others. Carers can use the card independently of the person under their care.
A Companion Card is issued to a person who is unable to access a venue or event without attendant care. Companion card holders have a significant and permanent disability with a lifelong need for a high level of support to participate in community events and activities. The Companion Card allows a person's carer free entry into participating venues and events.

STUDENT CONCESSION CARD QUESTIONS
Q.
How do I get student concession price
?

A.
If you are aged between 15 and 18 and at secondary school, you will automatically get the student price.
If you are over 18 you will need to show a current full time tertiary/student card.


Q. Why won't you accept my old student card?

A.
All student cards must be current and dated for the year.

Showing an old card or a card with no year on it doesn't tell us you are currently a student.
Q. Will my learners permit, drivers license or Medicare card work as a student concession card?



A.
No. Concessions are for students. These cards do not show you are a student


Q. I'm not from Sale, will you accept my interstate/ international student card?



A.
Yes, so long as it is dated for the current year



Q. I am a member of a club that offers me discount tickets ( RACV, National Seniors, Optus, Qantas etc)

why can't I show you my club card and get the discount?
A.
You have to buy your tickets through the club.

They offer discounts by purchasing bulk tickets that they either post to you or you print out.
MA and M ratings



Q. What's the difference between M and MA15+ ratings?



A.

If the film is rated M then there are no restrictions and children are allowed to purchase their own ticket to see it. The M rating is only a recommendation.


If the film is rated MA15+ then children under 15 can only see it if they are accompanied to the film by a parent or guardian over 18.
Q. Why can't a parent just give permission for their child to see MA15+ rated films?
A. The film ratings in Australia are law the same way a child under 18 cannot buy alcohol.
The law states that a child under 15 must be accompanied to the film by an adult parent or guardian.